Canolli
Free your iDevice
0.00/5 (0 投票).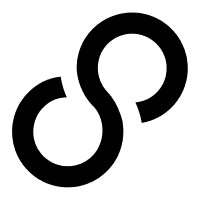 seng
by charlie hewitt
Seng is a sleek and highly customisable replacement for your iOS 8 app switcher and control center, providing 2 core features:
Multi Center
The Multi Center is at the heart of seng, fusing the app switcher and control center in a revolutionary way.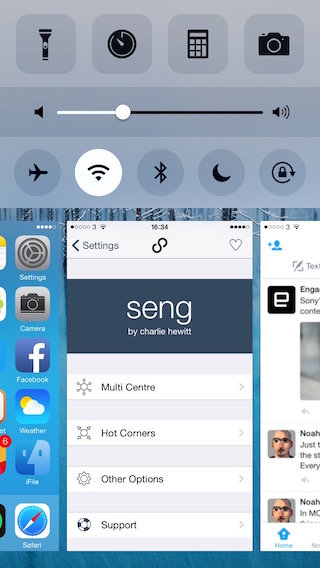 Seng provides unprecedented levels of customisation, allowing you to position control sections wherever you like.
With twelve default sections and full support for CCLoader the potential is amazing. Scroll view sections allow you to pack even more functionality into a compact area, and you can intelligently hide the AirPlay and media sections.
You can use slick gestures to activate the Multi Center and it is compatible with a large number of popular tweaks such as FlipControlCenter, Polus, CCSettings and QuickActivator.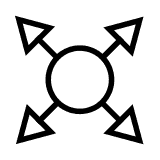 Hot Corners
Seng's Hot Corners add a whole new level of user interaction to iOS.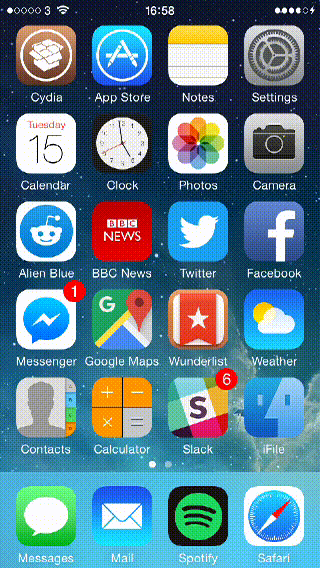 The Quick Switcher allows you to quickly and easily switch between your most recent applications with a simple swipe gesture.
It has been designed to feel at home with the standard OS and quickly becomes an essential aspect of your experience.
The swipe to close gesture is also a great addition to iOS, allowing a fast way to dismiss the open app.
And performing the same gesture on your home screen will lock your device; no need to have to reach for those buttons any more!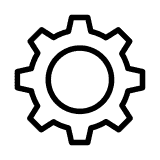 And More...
These core features are supported by a number of further options to tweak the appearance of seng, and a great feature allowing you to assign actions (including quit all apps, lock, shut down & more) to occur when the home screen app card is dismissed.
All of seng's features are designed to adapt to your device, with support for all iPhone screen sizes and orientations.
Seng also integrates seamlessly with Apple's reduce motion setting, and provides a blacklist to avoid annoyance in full screen games.
And seng is localised for a huge number of languages including French, Spanish, Italian, Chinese, Portugese, Hebrew and Arabic among others. Thank you to all the translators who helped make this possible.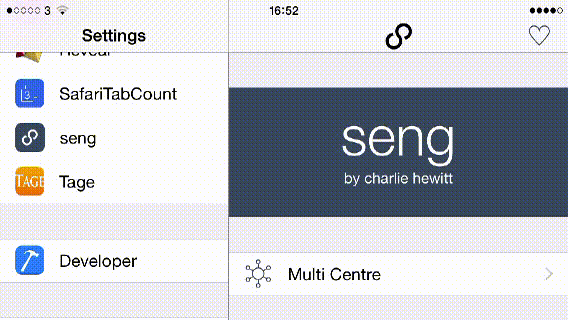 Make sure to take a look at the screenshots below.
Compatible with all iPhones and iPods running iOS 8.X.
Seng has been tested with a large number of tweaks, but there is still potential for compatibility issues. If you experience any crashes this is the most likely reason, get in touch and I can try to resolve it.
---
Comments